"Pal's Place" by Denise Donaldson Nelson of Pinnacle, N.C., is the 1996 North Carolina Ducks Unlimited Sponsor Print. Denise and "WR Dutchmans Ole Pal's" owner, Jeff Allen, have teamed up with the generous underwriting of Wheat First Securities to produce this classic print.
Contact Jeff
pal96@yadtel.net
336-998-3689
---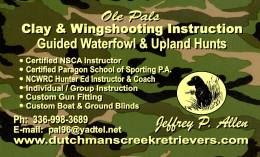 ---
The Green Drake
Local Orvis Dealer in Winston-Salem
http://www.thegreendrake.com
---
Superior Breeding

NFC Labrador Retriever Puppies & Trained Retrievers: Celebrating over 30 years of breeding Excellence! Contact Jeff for more details!

Our Labrador Retrievers are bred for superior hunting and field ability as well as first quality conformation. Our past and present breeding success has come from our goal of "Producing the best physical and mental genetics" in our retrievers. This has become our "Standard" at DCR. To achieve this goal we breed often to NFC's, NAFC's FC's, AFC's and MH's. These champions set the standard for the rest of the world and their ability is unmatched. We are blessed to be able to produce puppies from these great retrievers. Each of our retrievers are registered with the American Kennel Club and have OFA,CERF,CNM and EIC certifications. Most compete in field trials and hunting retriever field tests licensed by AKC. Our retrievers are strong waterfowl hunters as well as upland game masters. They are of even temperament and take readily to handling and training.

See details on upcoming breedings at Dutchmans Creek! Dutchmans Creek Puppy Information

Before our puppies are whelped we have a very detailed & intense pre-natal program for our puppies. Environmental changes in training with all positive stimuli are a priority. One example, shot flyers are shot for our bitches starting at 28 days gestation and proceed thru 48 days. Without any collar pressure, we believe this makes for a more enthusiastic, intelligent and attentive puppy as it grows thru its training stages. Before leaving, the pups are inoculated, wormed and thoroughly checked by a licensed veterinarian. The pups are also retrieving birds, and have been exposed to blank gunfire for a brief introduction to the gun. All DCR pups are habituated to various environmental conditions and situations which they will encounter throughout their life. Puppies are to be picked up or shipped approximately seven weeks of age. A deposit is required to secure your picking position (example: first pick - chocolate male, second pick, third pick, etc.). Deposits are accepted on each color and sex of expected litters. Please call or email for further details.

All studs are checked and certified against hip dysplasia (OFA) and against PRA by the Canine Eye Registration Foundation (CERF). A signed document from a licensed veterinarian insuring the bitch against any type of infectious disease is required before breeding.